Co-branding: Reebok and CrossFit

Print Article
Watch the Company You Keep
Case Study: Reebok and CrossFit
Co-branding has become a popular emergence amongst large corporations, such as Apple and Nike's collaboration on Sports Kit. Today, co-branding partnerships are being practiced in companies of all sizes. Of course, in order for companies to consider this tactic feasible, the agreement must create equal value for both parties.
Why would companies agree to co-brand? The purpose of this technique is to affiliate the positive brand recognition of one company with another to create a new composite brand, or to generate synergy with current brands while attempting to reach a new market segment that previously may have been untapped by one or both companies. Co-branding agreements can offer a powerful way of introducing one company's products and services to the loyalists of another. Simply stated, co-branding is the leveraging of brand equity.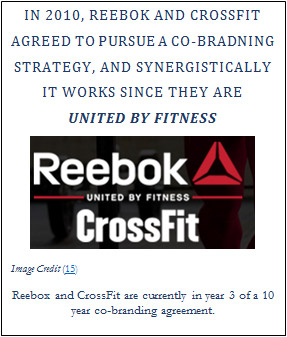 Equal Value to Both Companies
If it is already in your corporate DNA, why reinvent the wheel? After Reebok dominated the fitness and aerobics wave/movement in the 1980s with groundbreaking products and marketing, the company signed a long-term partnership with CrossFit, a core strength and conditioning program, in 2010 (1, 2). Now, three years later, Reebok is back on track to become THE fitness brand with the goal to empower consumers to be fit for life (3).
When Reebok and CrossFit agreed to pursue this co-branding strategy, they understood the synergistic nature of their collaboration since they are united by fitness. Their agreement can also be view as a complementary co-alliance, since both brands are in the fitness industry.
Weighing Co-Branding Benefits versus Risks
There are benefits as well as risks associated with co-branding. By taking a deeper look into the Reebok and CrossFit relationship, we will discover the various advantages and hurdles each brand encounters.